Hanging up the Car Keys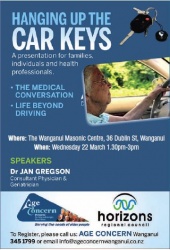 Jan has had her driver licence like many in her age group since she was 15 – that is over 60 years
of driving. I asked her what her first thoughts were, if there came a time where she would need to
give up driving. "She said she would shudder to think"
"My whole life would change if I couldn't drive. I may become more reclusive. Many of my friends
would be in the same boat. Being able to drive means that I can do, what I want,when I want to do it!"
Lois has been exploring alternatives to driving and has been preparing for a while now.
She knows that due to a disability that the time will come when it is no longer safe for her to
continue driving.
Lois has always been independent, and her car has been her lifeline.
"Hanging Up the Car Keys" is a forum for families, individuals, health professionals, and
especially senior drivers. Don't forget this is a situation that most of us will face in the future!
For more information or to register contact Janet at Age Concern Wanganui Ph 345 1799.