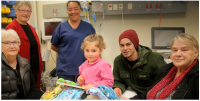 Pyjamas donated
16 Aug 2016
Ava Wikotu, 3, sits surrounded by donated pyjamas. The adults around her are, from left, Marion Davenport, Di Haynes, nurse Melissa Houltham, her dad Jordan Wikotu and Ruth Beadle. Monday, August 15,
Colourful, cuddly children's pyjamas are just the right gift for Whanganui Hospital's Children's Ward, paediatric nurse manager Janene Louwrens says.
The ward was given...
Read more